How it started
The inspiration of making Prucia comes from French home tradition to preserve plums in wine or spirits. Though in France, only the preserved plum is eaten and the spirit is discarded, the creators of Prucia were struck with the idea to use that very spirit as a base for a delicious liqueur.
Plum tree, 2009 was a good year for plums
Ingredients
Prucia is made from high quality plums grown in Moissac, southern France. At Jules Bremant, all kinds of plums were used to make liqueur and the best one was produced with the "Golden Japan" variety. This is an edible kind, yet tastes quite tart. Among other sweeter varieties, this tarter one make better liqueur.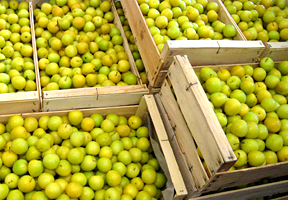 Plums delivered to Jules Bremant.
Marceration
When plums are harvested in July, they are carefully brought from Moissac to Jules Bremant in Cognac, thoroughly washed and put into tanks. Here, they splash into their perfect match – grape spirit. This grape spirit is precisely selected to complement these plums.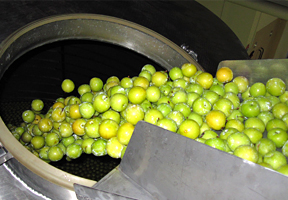 Plums are washed and put into tanks.
Maturation
Plum liqueur is stored in tanks for a few months and then transferred to old brandy casks. Jules Bremant is the liqueur department of the renowned Cognac brand "Louis Royer". It is of no surprise therefore that Jules Bremant uses Brandy casks from Louis Royer. Here lie the roots of the rich aroma of Prucia.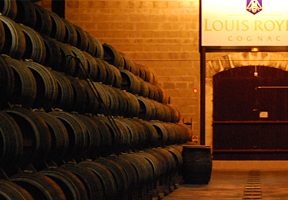 Cask storage rooms in Louis Royer. Casks are chosen here to mature Prucia.
Packaging
The packaging depicts the rich nature of France, the home of the plums. Prucia is carefully bottled and brought to Japan, bringing with it the richness of nature, the relaxing French atmosphere and a wonderful taste of plums. Sit back and enjoy the flowery aroma and full flavor of Prucia!