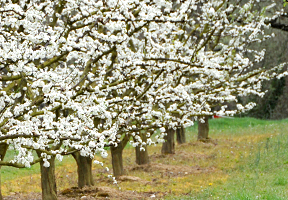 Plum orchard.
Plum flowers blossoming in March.
March. Spring is in the air, and plums begin to blossom in Moissac. The warm rays of sunshine take away the cold, and the dainty white plum flowers start to decorate the orchards. And what a sight it is to behold!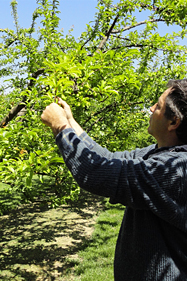 Plums are thinned out by hand.
A plum orchard in May. The fresh green brightly contrasts the blue sky.
With May comes stronger sunshine, and the plums grow amidst the fresh green. Many plums grow on a single tree, but too many lessens the potential size and juiciness of each plum. So periodically workers hand pick plums out to make sure they grow well, and all this hard work results in the tasty plums in harvest-time. 2010 had a chilly spring, so the plums took an extra week to ripen.
Small plums in a cluster
If all goes well, plums are hand-picked around July. Plums grown here in Moissac are now sent to Cognac to become Prucia.

Golden Japan used for Prucia is not among the major type of plum produced, and the production is still low. May we get more delicious plums this year too!