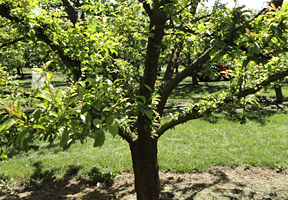 Plum tree on the outskirts of Moissac, 2009 was a good year for plums
Moissac was built around and became famous for its abbey of Saint-Pierre in medieval time. The whole town suffered major damages by the flood of 1930, but the reconstruction works thereafter laid the foundation for the present town.
The Romanesque Saint-Pierre Abbey remains world famous today for its beautiful cloister and sculptures. The cloister was completed in the 11th Century, with 76 columns remaining more or less in their original state, still echoing the medieval atmosphere. 46 of the 76 columns depict scenes from the Bible and stories of saints.
Sun slowly setting over the river.
Exterior of Saint-Pierre Abbey.
Walking to the public square in the centre of town, you often come across the morning market. As may be expected of the production region of various fruits, the market is filled with all kinds of fruit – plums, apples, pears…even honey and confitures! It's simply bursting with nature's treats. One especially renowned fruit among these is a variety of grape called Chasselas. Chasselas is A.O.C certified, and is essential to Moissac. You cannot talk of Moissac without knowing Chasselas!
* A.O.C: Appellation d'Origine Controlee (Controlled Designation of Origin)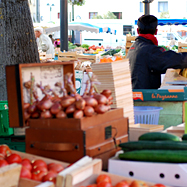 Morning market in Moissac.
Chasselas is the famous fruit of Moissac.
Fruits in syrup and juices.
A town enveloped with rich nature and relaxing sense of time.
Here is yet another secret of Prucia's delightfulness found in Moissac.